Collections
Shop for artwork based on themed collections. Each image may be purchased as a canvas print, framed print, metal print, and more! Every purchase comes with a 30-day money-back guarantee.
About Will Barger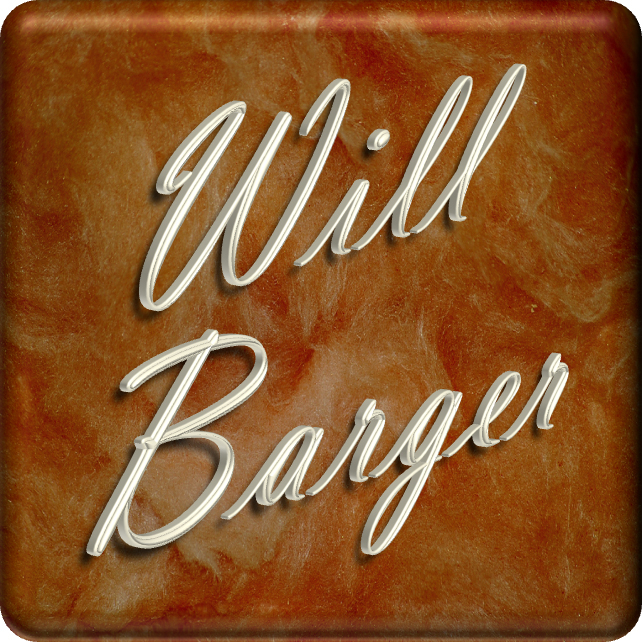 Will Barger is a veritable fountain of sage thought about the status quo (which is Latin for the mess that we're in). Occasionally, he also paints a pretty picture or doodles out some other not-half-bad design. If you want to set any of that out on a table or hang it on a wall, this site is the place to get it.

But if you're short on wall space or maybe would just rather have something interior designer-ish or even wear-able, amble on over to our sister site, Shop.WillBargerArts.com, where you'll find works by Will and others on casual apparel and other fashionable items. You can see a few such things here, but there's a lot more of such stuff to ogle over there, including soon several fine fabrics for using our art in your own projects.

DESIGNERS - FINDING YOUR COLOR: When you click on Shop in the main menu, the resulting page offers several filters for finding exactly what you're looking for. By using the Colors filter, you can specify a primary and optional secondary color to look for.
But more often, you might see a color in a given work and think, "I'd love to see what other works use that same color!". If so, we've got you covered: Just scroll down through the information on the right-hand side of every product page and look for the Colors section, which contains several swatches that indicate the more dominant colors found in that work. Then just just click on the swatch that you like the most. You'll be presented with all of our items that contain that color to a significant degree.


ABOUT WILL: Born at an early age in a small town in Texas, Will grew up at the center of everything in the middle of nowhere. Folks seem to agree that Will chose his parents exceedingly well.
Will has covered quite a bit of ground since then: From the fjords of southern Chile to the arctic plains of Alaska; from the Great Wall outside Beijing to the Eiffel Tower in Paris; and maybe most importantly, the Texas Chili Parlor on Lavaca Street in Austin. Will has greeted Presidents and kings, billionaires and bums -- and sometimes has been hard pressed to tell one from the other where it counts (particularly where politicians are concerned). He's run to the rescue, and he's run from the Federales. He's been shot at more than once, but never hit (yet). He's made more than his fair share of money, and he's lost more than many make in a lifetime.
Will's main goal in life is to be shot dead at the age of 85+ -- by a jealous husband, in his thirties. He's kissed a girl or two along the way, and one that really mattered.
Yep, Will's life has been a lot of things. But mostly, it ain't been dull.
Some of that hopefully shows up in his work.


ABOUT THE PRINTS: All of Will's work originates digitally, either from an idea or photographs. Unlike many online offerings, much of his work is done at resolutions that can readily support large-scale prints at full quality, with dimensions of 3 to 6 feet (1 to 2 meters) or larger.

Your orders and payments for prints and other items on this site are processed through Fine Art America, which is one of the world's leading operators in advanced printing technologies, using archival-grade pigments, fine papers, canvases, and other substrates. The optional matting and/or framing is done with museum-quality materials and craftsmanship. Most items also can be produced on an acrylic or metal panel for a distinctive look or special-purpose applications. Every item is covered by their NO-QUESTIONS-ASKED, MONEY-BACK GUARANTEE.

TO LEARN MORE: Please use the blue Contact button on the left to send us an email message with your questions, or to commission high-volume reproductions or a bespoke portrait or other work.
Certain works can be "re-painted" digitally to coordinate specifically with your design palette, or custom-printed on fabrics including silk..
We also offer a commercial line (not yet shown here) to meet any needs for a large number of "similar but different" works. Custom collections also can be "manufactured" fairly quickly to meet your special needs.